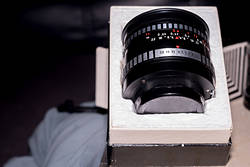 Det här kunde jag inte motstå, ett så där 50-årigt Meyerobjektiv i sin orginalkarton.
När jag fick hem det, det såg helt nytt ut, det kändes nytt att hålla i, det enda lite tråkiga var att det inte gick att fokusera på oändlighet.
Nå fram med skruvmejslarna, i med ett par shim-ringar under bakre linsgruppen och problemet var löst.
Klicka bara på lilla bilden till höger, sedan kan du välja att bläddra manuellt eller starta/pausa som ett bildspel.
Eller så kan du navigera med piltangenterna. Höger- eller vänsterpil för framåt/bakåt. Upp- eller nerpil för att starta/stoppa bildspel.
---
I could not resist this, an approximately 50-year-old Meyer lens in its original box.
When I got it home, it looked brand new, it felt new in my hand to, the only thing that was a bit boring was that it was inpossible to focus on infinity.
Took out the screwdrivers, in with a pair of shim rings under the rear lens group and the problem was solved.
Just click on the small image on the right, then you can choose to scroll manually or start / pause as a slide show.
Or you can navigate with the arrow keys. Right or left arrow for forward / backward. Up or down arrow to start / stop the slideshow.